Floor turntables are one structure of welding positioners.
It is used for low profile welding pieces.
Through the rotation and turning of the worktable, the work-piece is in a good welding or device.
It can be combined with other welding equipment to become a semi-automatic and fully automatic welding machine.
The rotation of the worktable is stepless adjusted by frequency conversion.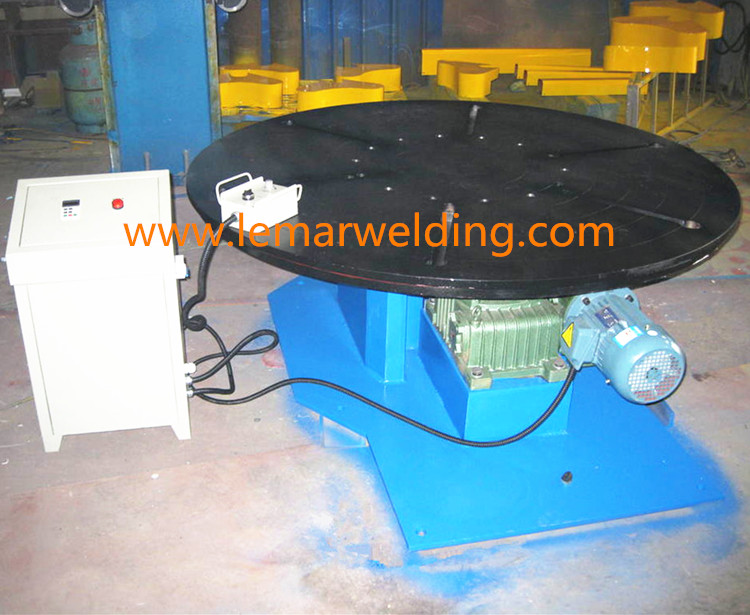 Features:
Uninterrupted welding
Reduce the number of rework
Improve welding quality
Reduce welder fatigue

Model

LP-03T

LP-05T

LP-06T

LP-08T

Max load capacity

3 ton

5 ton

6 ton

8 ton

Motor power

1.5KW

2.2KW

3.0KW

3.0KW

Flip speed

0-20s±10%

0-20s±10%

0-20s±10%

0-30s±10%

Flip table

800-2500mmCustomized according to the customer's actual product size

Transmission mode

Mechanical or hydraulic drive

Reduce deceleration ratio

1:286

Operation mode

cable handle operation /Wireless handle operation /independent control cabinet button operation

Self-dead weight

1.5T

2.0T

2.5T

3.0T

Flip the angle

90°/180°/360°

Supply voltage

3 phase 380V 50HZ

Model number

LP-12T

LP-15T

LP-20T

LP-30T

Maximum load-bearing capacity

12 ton

15 ton

20 ton

30 ton

Motor power

4.0KW

4.0KW

5.5KW

7.5KW

Flip speed

0-30s±10%

0-40s±10%

0-50s±10%

0-60s±10%

Flip table

800-2500mmCustomized according to the customer's actual product size

Transmission mode

Mechanical or hydraulic drive

Reduce deceleration ratio

1:120

Operation mode

cable handle operation /Wireless handle operation /independent control cabinet button operation

Self-dead weight

3.5T

4.0T

5.0T

7.5T

Max flip angle

90°/180°/360°

Power

3 phase 380V 50HZ