Product Description:
Welding positioner is composed of a worktable tilting mechanism, turning device and electrical control system.
The workpiece can reach the most suitable position for welding through rotare and turn the worktable.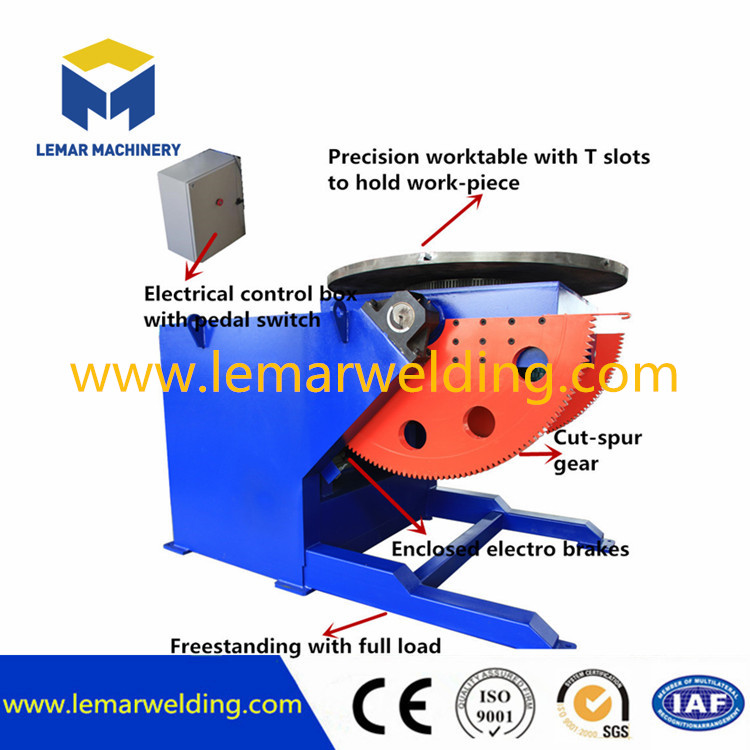 Rotary welding positioner turntable turning angle of the worktable is 0°~135°.
It can realize joint control with manipulator or welding machine.
The control system can be equipped with three configurations: key digital control type, switch digital control type and switch relay control type.
This product is used in the welding of various shafts, discs, cylinders and other rotating work-pieces, and is currently a relatively widely used structural form.
Model

LB-10

LB-20
LB-30

LB-50

LB-80

LB-100

LB-200

Max capacity(T)

1
2
3
5
8
10
20
Tilt angle(°)

0-90

0-120

0-135

0-135
0-135

0-135

-45~90

Tilt speed(rpm)

0.4

0.35

0.25

0.2

0.2
0.2

0.15

Rotate speed(rpm)

0.09-0.9

0.05-0.5

0.05-0.5

0.05-0.5

0.02-0.2
0.02-0.2

0.02-0.2

Max Gravity(mm)

200

250

300

300

400

500

600
Max eccentricity

150

200

200

200

200

200

200

Table diameter(mm)

Φ1200

Φ1250

Φ1400

Φ1500

Φ1600

Φ2000

Φ2500

Speed control way

AC Frequency step-less speed adjustment

Rotating motor(KW)

1.1

1.5

3

3

5.5

Tilting motor(KW)

1.1

1.5
2.2

3

3

5.5

11