Product Description:
The hydraulic fit up welding rotator is specially designed for cylinder assembly operations, which can significantly reduce the time and labor required for cylinder calibration and jacking during assembly operations, thereby saving costs and being able to withstand harsh operations surroundings.
By adjusting the position of the hydraulic cylinder on the roller rack, i.e. the center distance and center height of the roller pedestal, the work-piece can be moved up, down, left and right, and used in conjunction with the welding walking roller rack, the butt clearance and staggered edge on the weld side of the two cylinders can be adjusted to meet the requirements of the assembly and welding.
Product Features:
The hydraulic fit up welding rotator is composed of manual trolley traveling mechanism, roller frame, hydraulic system, control system, etc.
The whole machine is configured with 2 hydraulic lifting roller racks, with hydraulic lifting function to complete the cylinder calibration and docking work.
The whole machine is installed on the same guide rail, and the left and right positions can be adjusted according to the welding needs.
Manual CO2 gas shielded welding is used for the assembly welding of the cylinder body and the cylinder body. At the same time, it can be used with the user's welding operation machine and submerged arc welding machine to realize the automatic submerged arc welding of the outer circumferential seam of the cylindrical work-piece
As a self-adjusting electric walking roller frame, this machine is widely used in the automatic welding of inner and outer longitudinal seams and inner and outer circumferential seams of drums, steam drums and other cylindrical components in boilers, pressure vessels, petroleum, chemical, machinery and other manufacturing industries.
It can be used for surface spraying of work-pieces, which is convenient for workers to operate and improves labor efficiency.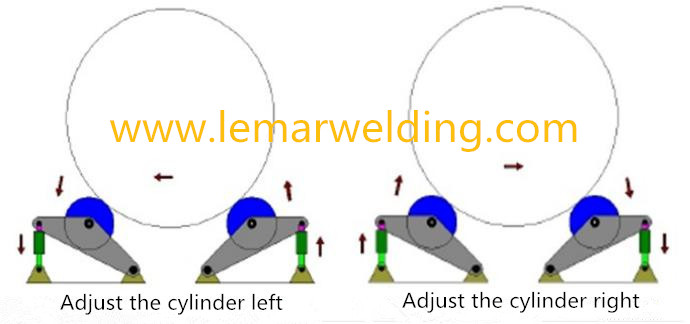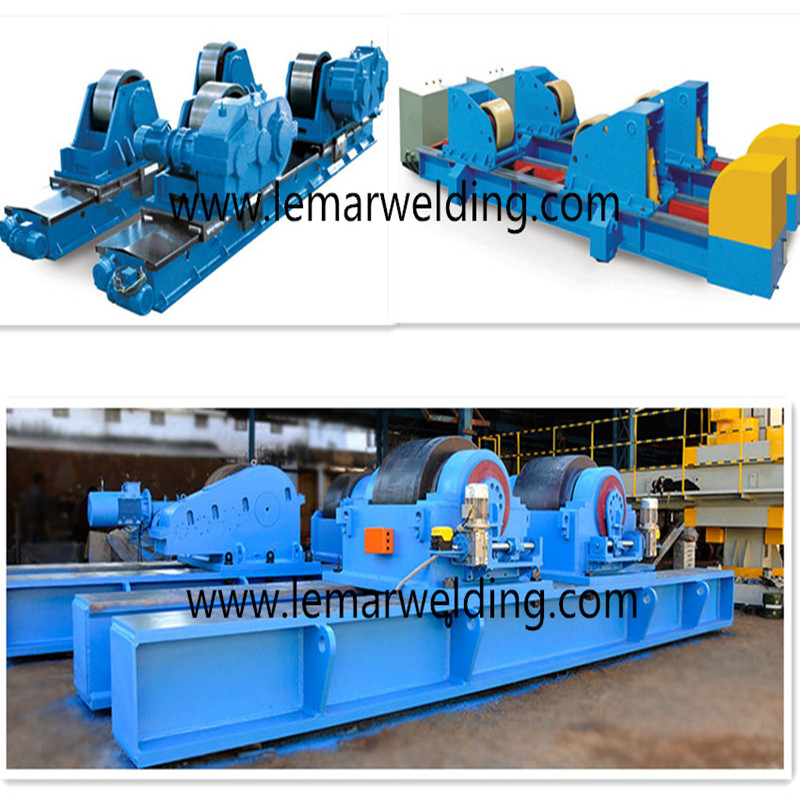 | | | | |
| --- | --- | --- | --- |
| No. | Project | Unit | LMGK-80 |
| 1 | Loading weight | t | 80+80=160tons |
| 2 | Maximum load per roller | t | 80 |
| 3 | Hydraulic group bearing weight | t | 40 |
| 4 | Electric walking driving force | t | 80 |
| 5 | Work-piece diameter | mm | Φ1500~φ75000 |
| 6 | Roller pitch | mm | 1600~3560 (based on final design) |
| 7 | Roller movement mode | | Follow up |
| 8 | Group adjustment mode | | Up and down the hydraulic cylinder (one station and four cylinders). |
| 9 | Roller material | | 45# forging steel |
| 10 | Hardness and hardness of roller | | HB280~320 |
| 11 | Roller diameter * width | mm | Φ500×200 |
| 12 | Hydraulic motor power | kw | 5.5 |
| 13 | Working pressure of hydraulic station | MPa | 16 |
| 14 | Cylinder bore | mm | Φ125/Φ60 |
| 15 | Oil Cylinder Maximum Trip | mm | 300 |
| 16 | Bearing rail type | | QU100(Self-prepared) |
| 17 | Inside track distance | mm | 2300 |
| 18 | Hydraulic control system | | Jiangsu |
| 19 | Bearing | | Harbin/Luoyang Bearing |
| 20 | Main electrical components | | Siemens |
| 21 | Wheel frame body and base | | Welded structures |
| 22 | Roller shaft | | 45# quenching and tempering |
| 23 | Input power supply | | AC 380V±10% 50H |