H-beam automatic assembly machines have been widely used in recent years, with stable operation and low failure rate.
Its main function is the fastening calibration, positioning, automatic centering and spot welding of the web and flange plates of H-shaped steel.
Automatic centering accuracy (less than ±1 mm).
No need to adjust every time (use eccentric for fine adjustment).
Using Japanese Mitsubishi programmable controller and AC inverter, high production efficiency
It has a stable working condition, and the welding torch is equipped with an arc-following device to ensure the quality of spot welding.
Specification:
| | |
| --- | --- |
| Suitable piece web height | 160-2500 mm (web height is less than 260 mm, simply remove the middle two web clamping wheels. ). |
| Suitable piece web thickness | 6 -40 mm. |
| Applicable work-piece wing plate width | 150-1000 mm (Off-centered H steel can be formed; i. e. both sides and each width can be positioned within the range of 75 mm—500 mm) |
| Fender thickness of the work-piece is applicable | 6-80 mm (Turn the front and rear webs over 60 mm thickness) |
| Suitable piece length | 4000 — 15000 mm. |
| Single work-piece weight | <20 t. |
| Spot welding speed | 360 mm/min (two customers with straight handle NBC-350 gas welding machine) |
| Empty walk speed (30 Hz) | 3600 mm/min. |
| Fast delivery speed of the work-piece | 6000 mm/min (50 Hz) |
| Enter roller path | 2600 mm × 3 (one section is active) |
| Output roller path | 2600 mm × 3 (one section is active) |
| Electrical assembly | AC converter |
| Total installed capacity | Host power: 9.5 KW, |
| Power supply | Rated capacity of CO2 welder: 18.1 KVA × 2 |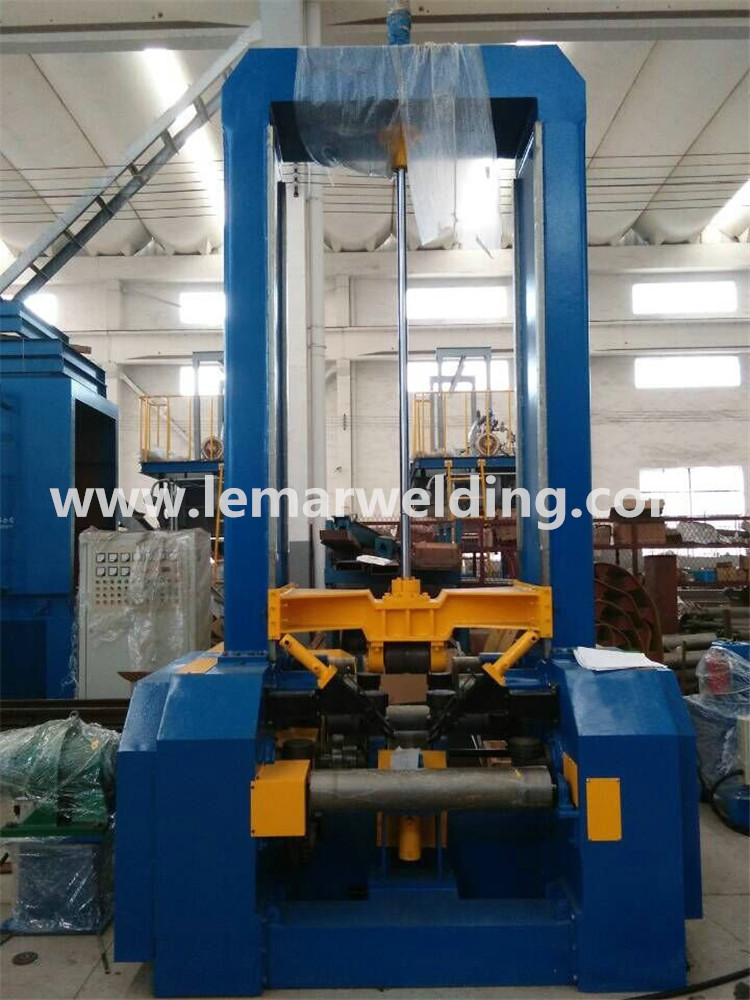 Details:
1.The flange and web are automatically centered and clamped to avoid frequent measurement and adjustment of the center during the assembly process, which saves time and effort.
The web clamping wheel adopts a four-group arrangement of front and rear, and a two-layer combination structure, which can correct the small curvature of the web and then assemble it, improve the accuracy of the assembly, and solve the phenomenon of assembly tail wobble;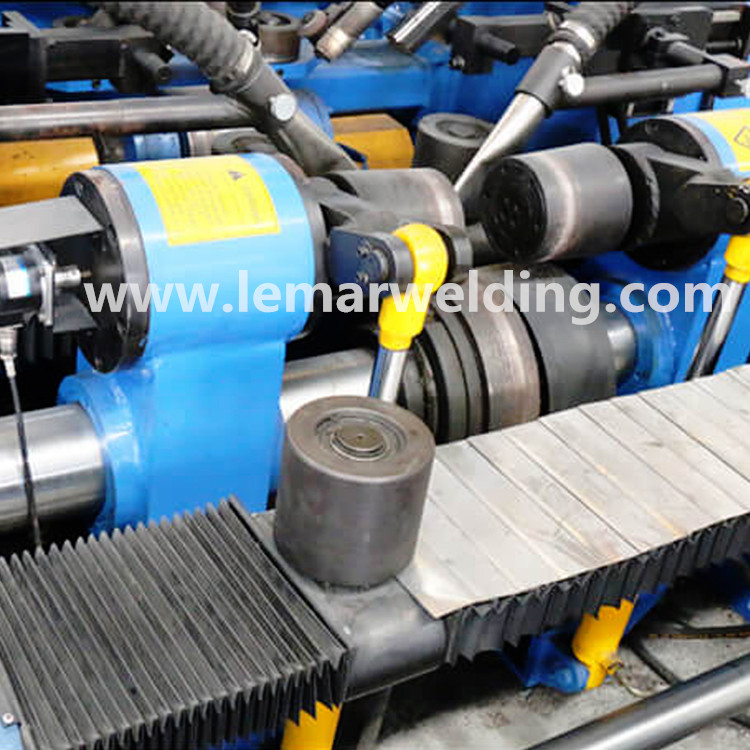 2.The H-shaped steel is precisely aligned, and the operation is simple and convenient.
The upper pressing wheel and the spot welding position are on the same plane, and the spot welding is done after compaction to ensure the accuracy of the assembly;
A tooth-inlaid clutch is installed on the coupling part of the flange plate clamping mechanism, which can assemble the off-center H-beam steel of the web, and the range is between 75 mm and 500 mm;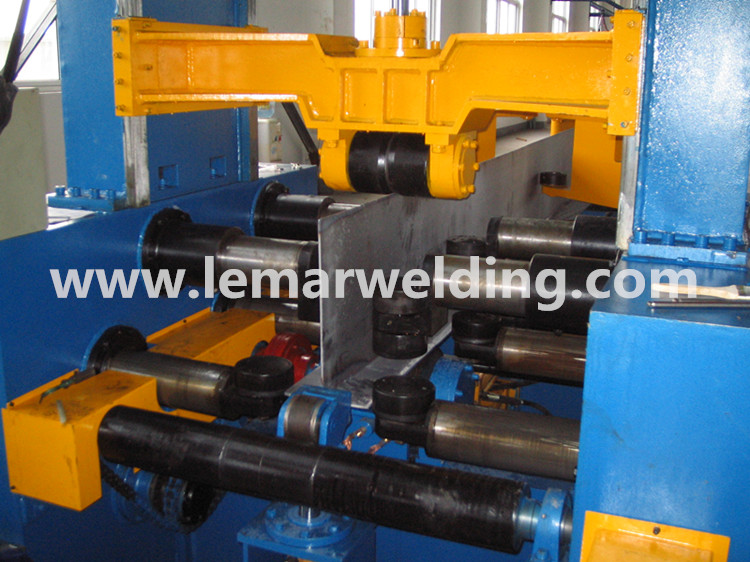 3.The design of automatic spot welding arc guide mechanism is scientific.
The expansion and contraction of the welding torch is driven by a light oil cylinder, and the connection part adopts active joint and spring compression to ensure the stability of the pressing force between the guide wheel and the work-piece and the welding torch can follow the guide wheel to center the weld.