Product Description:
HP Series Positioner, also known as welding positioner, welding turntable, welding rotary table, is mainly used for rotating and turning round work-pieces.
The welding positioner can be used in conjunction with the welding manipulator to realize automatic welding, and is widely used in welding, cutting, grinding, assembling, painting, testing and other processes.
Product Features:
1.30kg welding positioner is mainly used for work-pieces weighing less than 30 kg.
2.30kg welding positioner uses DC motor drive, step-less adjusting speed can be achieved.
3.Controller adopts computer control, which can realize linkage with the welding machine.
4.Adopt professional anti-electromagnetic interference design to avoid high frequency interference during welding.
5.Power system adopts a worm reversing mechanism with self-locking function.
6.Turning angle of the worktable is 0~90°, and it can realize step-less rotation.
7.According to user needs, the welding gun bracket, adjusting mechanism, guide rail and pneumatic top can be configured.
8.Automatic welding of the work-piececan be realized.
Quick Details:
Item

HP-30 Ordinary positioner

HP-30 Timing welding positioner

HPCN-30 CNC screen touch welding positioner

Load capacity

30KG

Table diameter

315mm

Drive Motor

DC 110V 80W

DC 110V 80W

57 stepping reducer

Through hole diameter

25/65mm

Height of worktable

400mm

Flip angle

0-100mm

Rotating speed

1-15rpm or 0.5-5rpm

1-15rpm or 0.5-5rpm

0.01-5rpm

Use occasion

Manual welding /cutting/spraying

Auto welding /cutting/spraying

Precision automatic welding

Standard

Positioner host+Control box+Foot switch+Power line+Manual+Certificate

Positioner host+Control box+Foot switch+Power line+Manual+Certificate+Linkage joint

Positioner host+Control box+Wireless control box+Power line+Manual+Certificate

Optional

1. Welding chuck (selected according to the diameter of the work-piece) 2. Manual gun holder (manually adjust the advance and retreat of the welding gun) 3. Pneumatic gun holder (pneumatically adjust the advance and retreat of the welding gun) 4. Pneumatic tailstock (the other end of the work-piece can be pneumatically tightened to ensure the work-piece Both ends are concentric) 5. Roller support frame (can support longer work-pieces)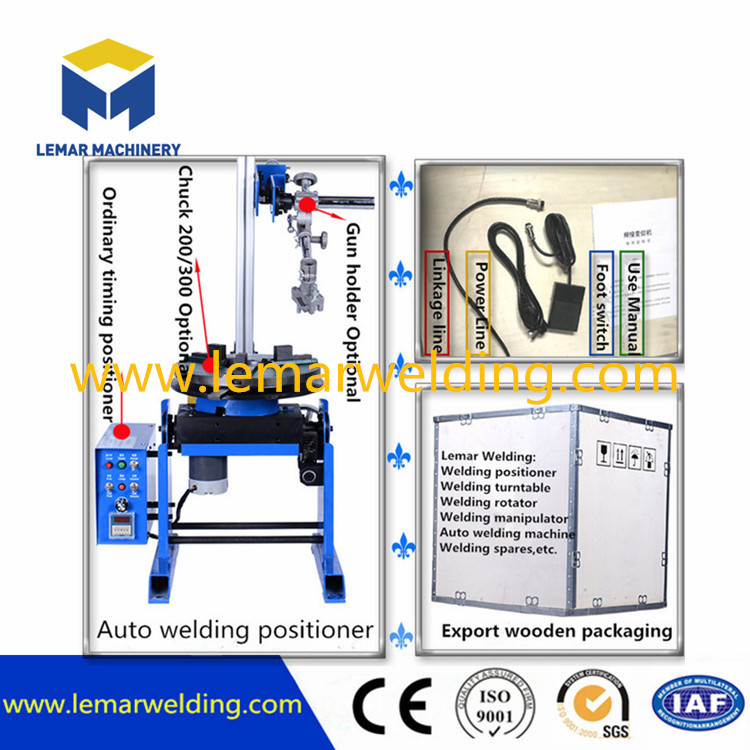 FAQ:
1.What is your product range?
1)CNC Welding positioners,welding turning tables,welding manipulators and related spare parts.
2)Welding rotators(turning rolls) and related parts.
3)Seam welding machines for stainless steel and other steel material
4)H beam production line: CNC Plasma cutting,H beam Assembly machine,H beam straightening machine,H beam Gantry SAW Welding machine,H beam shot blasting machine

2.What certificate the machine in your company get?
We've passed the ISO9001 Quality System Approval and CE Certification.

3.Do you have export experience?
Yes,we have many years experience of H beam production line and Automatic welding machines such as seam welding,welding positioners ,weldingrotators,welding manipulators and parts. We have exported to UK,USA,Canada,Russia,Kuwait,India,Oman,France,Indonesia.Pakistan,Malaysia,etc.
4.What's your methods of transportation?
For most countries, we will transport our machine by sea or air express(DHL,FEDEX,UPS,TNT), as for inland countries, we may use railway or highway transportation.
5.If we can trial order?
Trial order is welcome to test the quality.
6. How we can pay for?
1)30%advanced payment,70%balance payment.
2)We accept T/T.Western Union,L/C,Paypal.